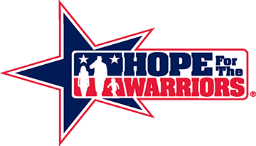 July 4, 2022
Given that today is Independence Day, we couldn't think of a more appropriate time than now to share our first charity that we are highlighting for our 25th Anniversary.
Hope For The Warriors is a national non-profit organization that provides comprehensive support programs and services to service members and veterans, military families, and families of the fallen.
Hope For The Warriors was founded in 2006 by military families as they witnessed the devastating effects that war imparts on service members and their families. Their programs are comprehensive and reflect that many factors can impact a service member's life like community, employment, health, as well as life's transitions. HOPE provides anything from urgent or long-term wellness care to reintroducing a beloved sport or hobby to injured veterans. Hope For The Warriors is grounded in family values and its leadership remains in the hands of combat veterans and military family members.
Today, on July 4th, we are thanking our veteran and active U.S. military service members by donating $25,000 to Hope For The Warriors in hopes that we can make a difference in the lives of those who do so much to keep us safe.
**For more resources, information, or to make a donation of your own, please visit www.hopeforthewarriors.org.