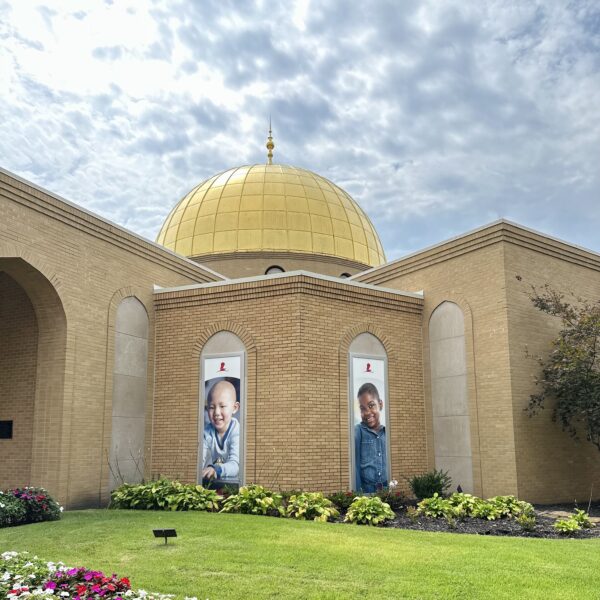 It is a well-known saying by Memphis locals that St. Jude Children's Research Hospital is one of the happiest places on earth. It's difficult to imagine happiness as an apt description of a hospital, but that idea quickly disappeared when we arrived at the St. Jude campus for a welcome dinner and a special message from ALSAC* CEO, Richard Shadyac Jr. We instantly felt the energy of children without ever seeing a patient. Privacy during their stay is paramount, but a warmth was felt that must comfort countless families when they've arrived with no other resources for their child's care. We heard from patient parents that the first words spoken to them when they arrived at St. Jude was "you are in the exact right place" followed by a big hug. CEO Donna Spurrier, and I took away pivotal insights into the work that St. Jude is doing and feel more certain than ever of why Spurrier Group has become a corporate partner.
Legacy of service
 St. Jude Children's Research Hospital holds special meaning for Donna. Her father, Jess Duboy, worked with Danny Thomas, a well-known actor who founded the hospital in 1962 with the mission that "no child should die in the dawn of life." Duboy had a successful career in radio and television and supported St. Jude by hosting the national live telethons for the East Coast.
A central theme that we felt of our time at St. Jude was multi-generational support. We spoke to fellow donors who came from all parts of the country, St. Jude area directors, and patient parents who shared stories of carrying on a family tradition to uphold the St. Jude mission. We met a family of siblings from Virginia who honored the memory of their mother who was a longtime St. Jude supporter by hosting an annual golf tournament that fundraises and commemorates her giving nature. An area director wanted to do her part and became involved because her niece sadly passed of cancer and knew how much quality care she received at the hospital. These stories can be passed down through families who will continue to advocate for ending childhood cancer. For Donna, carrying of the legacy of support is a way to honor her father's big-hearted spirit.
C is for collaboration
Another theme that emerged during our trip was collaboration. St. Jude wouldn't have been able to raise the survival rate of pediatric cancers from 20% to over 80% today without collaborating at every level.
This is apparent in the partnerships and cooperation for advancing research. We had the rare privilege to hear from three world renowned doctors who shared their personal stories of why they came to St. Jude and what curing cancer looks like in 2023 and beyond. Dr. Julie Park, Department Chair of Oncology, spoke about her teams' role in translational research and what that means for future cures. The path that treatments take from basic research, development, clinical trials to outcomes is a fluid one where all parts need to work in synergy rather than step by step. The goal is to enhance inter-department collaboration with mentorship, training, and innovation. Dr. Asya Agulnik, director of the Global Critical Care Program and a pediatric critical care specialist with degrees from Harvard University, the University of California Berkeley, and Stanford University of Medicine joined St. Jude in 2016. She shared insight into implementation science and her work developing PEWS, Pediatric Early Warning Systems, which is the early identification of critical illness in a child with cancer. In 2017, her team translated and implemented this early detection system successfully in over 100 hospitals in 20 countries of Latin America. This collaboration decreased the use for ICU resources, improved interdisciplinary communications by strengthening teamwork, and is reducing global disparities in childhood cancer outcomes.
The expansion of the St. Jude hospital campus is another place where we found collaboration. The Domino Village, which opens this year, is a 1-, 2-, and 3-bedroom apartment building that was built with shared input from doctors, parents, and patients. Areas like family common rooms, a music studio, art studio, and outdoor areas came from the minds of the St. Jude community. In 2026, an out-patient facility will be completed that will allow for 20% more patients to be treated each year. The Inspiration 4 Advanced Research building was designed structurally for research departments to collaborate. On our tour of levels 1 and 2, we saw various meeting spaces, a center courtyard, and communal dining. Even the labs were designed with windows on all interior walls, so that research teams can see each other while getting a healthy dose of natural light.
In treatment, St. Jude's lifesaving research is shared globally. Their united approach to curing pediatric cancer is a tenet on which Danny Thomas founded St. Jude and they continue to share health protocols and treatments while collaborating with hospitals worldwide.
Embracing the mission
 Over the course of our visit, people from different parts of campus including parents, medical staff, housekeeping, and researchers expressed their gratitude by saying that without donors' generosity, none of this would be possible. Without contributions, researchers can't discover groundbreaking science, families wouldn't be able to afford the medical costs or be able to stay comfortably on campus with their children, and hospitals worldwide wouldn't benefit from the lifesaving treatments St. Jude provides. Donna and I reflected that Spurrier Group is just one of many who has connected with the message of St. Jude. Every person who has given their time, talents, or donations has contributed profoundly to the mission of finding cures and saving children.
Note: *ALSAC, the American Lebanese Syrian Associated Charities, was founded by Danny Thomas in 1957 to be the fundraising and awareness organization for St. Jude Children's Research Hospital. Its sole mission is to raise the funds and awareness necessary to operate and maintain the hospital so that no parent ever pays a bill for their child's care.