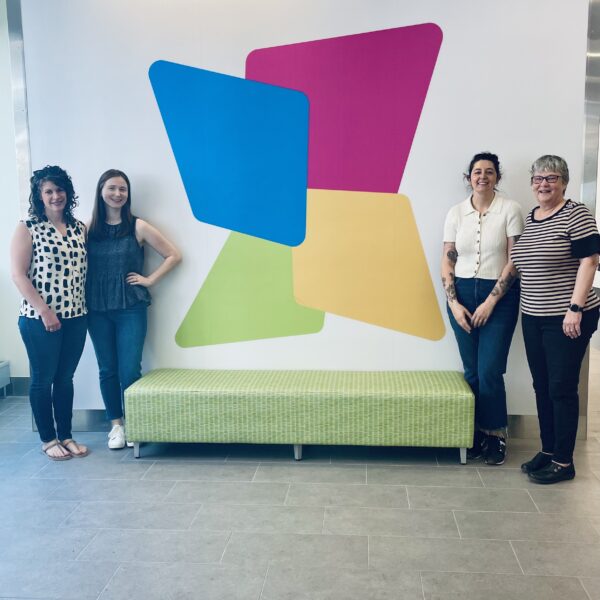 For the team at Spurrier Group, one of the highlights this spring brings is the opportunity to contribute to the Children's Hospital of Richmond by participating as the presenting sponsor of their Words & Wisdom 2023 fundraising event. This 6th annual event takes place May 18, 2023, and is hosted by the Senior Board of the Children's Hospital of Richmond. As a part of the Richmond community, Spurrier Group is eagerly looking forward to sponsoring the event knowing that all proceeds support the construction of the Children's Tower.
This year is undoubtedly meaningful for the Children's Hospital Foundation as the Children's Tower, their new home for inpatient and emergency care, opens its doors to children and families on April 30, coincidentally the hospital's 103rd birthday. Mackenzie Rhodes, Media Buyer at Spurrier Group, along with her family have been longtime supporters of their mission. She has the unique opportunity to volunteer on that special Sunday by welcoming current patients across the Sky Bridge that connects VCU Medical Center to the new hospital.
Earlier this month, The Spurrier Group team accepted an invitation to tour the Children's Tower before opening day. It was an extraordinary experience walking through hallways, treatment rooms, and entire floors that were so thoughtfully designed.
A special opportunity
Beautiful hand painted murals adorn the hallways and flow throughout each floor with the central theme being, quite fittingly, the James River. With a collaboration from the VCU Rice Rivers Center, awareness is key as each river animal depicted serves as a mascot, leading families through color coded floors and while acting as easy to find landmarks. Each mascot featured in the design is painted alongside its matching parent, letting children know that they'll never be alone while receiving treatment. 
The community spaces were designed with families in mind and the needs that arise from wanting a comforting and safe environment. Along with a state-of-the-art performance room that accommodates every event from movie nights to magic shows, there are specialized play spaces for young children, teenagers, and siblings. Quiet rooms and a gym are available for parents who need to make private phone calls, exercise, or simply find a quiet moment to recharge. An indoor green space is available to visit alongside a sweeping view of Richmond. Every plant was meticulously chosen to be safe for everyone, including immunocompromised patients. Patients and families can also enjoy ice cream and pizza (from an authentic Italian wood-fired oven) which were two absolute must haves according to Children's Hospital president, Elias Neujahr. 
Extensive research was collected from a network of patients, parents, and healthcare professionals during the build to make the hospital's functionality serve the patients as accurately and thoughtfully as possible. From the three floors holding 72 private patient rooms to the only level 1 pediatric trauma ER in central Virginia, no detail was left out. Every patient room is located along the perimeter of the building so that everyone has a view. Within each 330 square foot space, it's all about comfort; like a dedicated family space, a spacious bathroom customized for wheelchair use, and even custom color LED lights installed inside the room so that patients can make it their own. It's a subtle, non-verbal way to let children know they are heard and in control. 
The emergency room consists of 22 treatment rooms, an acute care center, and pediatric intensive care unit all with the experience of a child kept in mind. PPE (personal protection equipment) is available to the healthcare team along each hallway, but cleverly hidden behind cabinets featuring fun facts about James River animals. The lighting that runs along each side of the ceiling is positioned ever so slightly upwards, so that the strong glare doesn't go directly into a patient's eyes. Internal emergency response systems can take a patient and care team arriving from the helipad located on the roof to the ER in a matter of seconds thanks to a series of timed elevators and automatically unlocked doors. A talented Child Life Team, comprised of caregivers that are trained and licensed in behavioral therapy, assemble to meet children at their level, whether it's to provide play time, plan a birthday party or to better explain a diagnosis in a way that a child can understand.
During our tour, one impactful word kept showing up. It was clear that it served as the reason behind the planning, design, and execution of the Children's Tower: thoughtfulness. This theme is found everywhere from color coded floors to curated patient rooms. The last small, but mighty detail we notice are yellow painted beams, found along the ceiling that signal to help centers where no matter which language is spoken and no matter what type of assistance is needed, someone is with you. As the sun sets in Richmond and the skyline becomes defined by the downtown architecture, a soft yellow glow illuminates the glass frame of the Children's Tower, serving as a beacon that care will always be found inside.